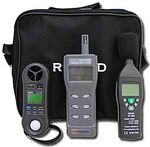 An Envirokit are a set of scanners used by Environmental Specialists to better study new and usual environments.[1] This kit contains only three items,[2] but they are very sophisticated pieces of equipment that require a skilled operator to properly use and interpret the results.
The entire kit weighs 5 or 10 kg,[3] and can be fastened to a belt or placed in a backpack. All together, it only costs 500 credits.
A standard envirokit contains the following:
Notes & References
Edit
↑ Star Frontiers Alpha Dawn pp.45
↑ Some Environmental specialists supplement the standard kit with specialty scanners such as the Radscanner.
↑

The description of the kit gives a mass of 5 kg, while the cost/mass tables gives a mass of 10 kg
Ad blocker interference detected!
Wikia is a free-to-use site that makes money from advertising. We have a modified experience for viewers using ad blockers

Wikia is not accessible if you've made further modifications. Remove the custom ad blocker rule(s) and the page will load as expected.