This map of unknown provenance was made sometime in the late 1990s to the early 2000s. It was developed by an unknown designer, for an unknown campaign set around Federation Year 654. This map was built around the Zebulian map, but goes well beyond the frontier sector.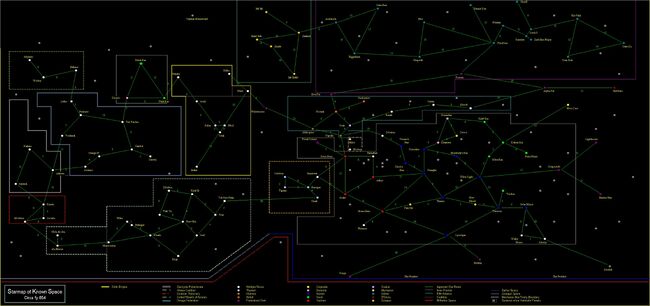 This map includes the following bodies:
The Inner Frontier
UPF Controled System
Alpha Psi
Bailors Star
Beta Psi
Durge
Lighthouse
Midian
Penal Colony
Tesson
Outpost #1
Watchtower
RIM Alliance
The Coalition
Colobus
Haregus
Onsil
Sundown
Tipidis
Sathar Space
Aenbiush
Blee
Cherff
Lieni-G
G'nish'raa
Kiepoldt
Kie-Pahk
Riggishian
Osin-Frae
Saenis-Das
S'syriax
Sassyxz
Zisk Sine Major
Osin-Zisk
Osin-Da
Zuaqqor Space
Izz'Eskitt
Izz'Izk
Sizks'Itsk
Zizziksz
Zizzkt
The Mechanon Non-Treaty Boundary
Dirdir Empire
Atsil
Tsuli
Sibol
Sidhe
Sidhir
Sulier
Uhier
Utlishe
Zanziyula Protectorte
Ghana Coalition
Ah-Meese
Moh-de-ehn
Marsoonlas
Wihn
Belzagor
K'tzala
K'tak
Ixatl
Raav-Ihn
V'zik'Ta
Zik'uken
Ka'at Si
Vohr
Tel-Aya-Rahn
Dulakian Theocracy
United planets of Arsalon
Omega Federation
Lethe
Penkawr
Verdandi
Tah Varden
Gambol
Darvra
Omega IV
Zerbino
Milltukke Space
Ad blocker interference detected!
Wikia is a free-to-use site that makes money from advertising. We have a modified experience for viewers using ad blockers

Wikia is not accessible if you've made further modifications. Remove the custom ad blocker rule(s) and the page will load as expected.