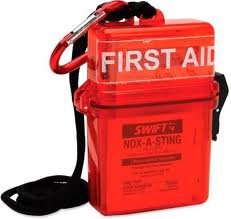 A First Aid Pack is a compact, abbreviated version of a Medkit included in every Standard Equipment Pack and Emergency Survival Pack.
Physically, the unit is a small, waterproof case or pouch of negligible weight, approximately 15cm x 10cm x 2cm, containing the following:
Most First Aid Packs assume the presence of a Pocket Tool and are sold with one (such as the version in the standard or emergency packs), but some models include a small safety cutter or scissors. Other models include a pair or protective gloves and/or use lower-tech bandaging or medical packets.
Ad blocker interference detected!
Wikia is a free-to-use site that makes money from advertising. We have a modified experience for viewers using ad blockers

Wikia is not accessible if you've made further modifications. Remove the custom ad blocker rule(s) and the page will load as expected.