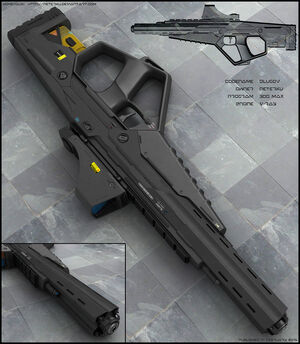 A Laser Scout Rifle, sometimes confused with laser carbines is a shortened and lightened version of a laser rifle.[2] As a consequence of the shorter barrel, ranges are cut by nearly 25%, which is considered an acceptable tradeoff for its overall handiness.
A laser carbine has an SEU dial can be set from 1 to 20 and commonly comes scope-ready, although the scope must be purchased separately.
Cost: 750 Cr
Mass: 2.5kg
Notes & Resources
Edit
↑

The basic Alpha Dawn Laser Rifle.
Ad blocker interference detected!
Wikia is a free-to-use site that makes money from advertising. We have a modified experience for viewers using ad blockers

Wikia is not accessible if you've made further modifications. Remove the custom ad blocker rule(s) and the page will load as expected.