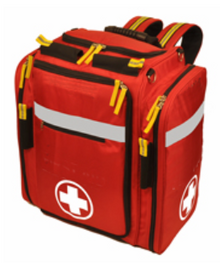 A Medkit, also known as a Medikit, has all the specialized equipment a Medic needs to perform his or her job. It weighs 10 kg and can be carried as a backpack.
A fully-stocked standard Medkit costs 500 credits.
For refills, the following items cost 5 credits each: Antibody Plus, Antitox, Stimdosep, Staydose, Local Anesthetic and Omnimycin.
Biocort and Telol refills cost 10 credits each.
A standard medkit contains the following:
Items marked with an asterisk (*) are included in a First Aid Pack.[1]
See also:
Notes & References
Edit
↑ Star Frontiers: Alpha Dawn Basic Rulebook pp. 8
Ad blocker interference detected!
Wikia is a free-to-use site that makes money from advertising. We have a modified experience for viewers using ad blockers

Wikia is not accessible if you've made further modifications. Remove the custom ad blocker rule(s) and the page will load as expected.