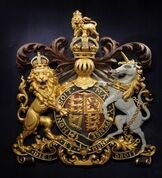 The Royal Family of Clarion is a dynastic family that has ruled the planet Clarion (White Light) in an unbroken line from parent to child for 400 years.[2] They reside in the city of Valentina, (also known as the Throne City), the largest city on the planet.
The current monarch, Leotus XIX, has ruled for 37 years. It is expected that he will soon abdicate in favor of his daughter, Leotia XX.
Among its other endeavors, the family sponsors the Clarion Royal Society of Astronomers.[3]
Notes and References
Edit
↑

English Royal Seal c.1880

↑

"Warriors of White Light" module System Brief

↑

House Rule
Ad blocker interference detected!
Wikia is a free-to-use site that makes money from advertising. We have a modified experience for viewers using ad blockers

Wikia is not accessible if you've made further modifications. Remove the custom ad blocker rule(s) and the page will load as expected.