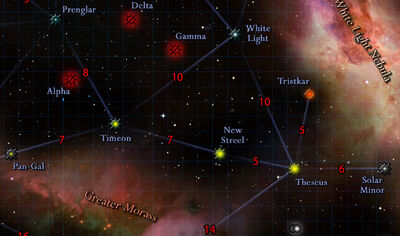 STAR FRONTIERS™ SYSTEM BRIEF
SYSTEM NAME:Theseus
STAR COLOR: Yellow (G1)
HABITABLE PLANETS: Minotaur (4/11)
Habitable Planets
Edit
Minotaur is a moon orbiting the gas giant Ares occupying the 4th orbit out of 11 planets in the Theseus system.
Subspace Trade Routes
Edit
Theseus is a major hub in the Frontier, located in the Thessean Passage between the White Light Nebula and the Greater Morass, it is the gateway to the worlds bordering the Vast Expanse and a strategic portal to the Lynchpin System:
Commercial Routes:
Military Route:
Ad blocker interference detected!
Wikia is a free-to-use site that makes money from advertising. We have a modified experience for viewers using ad blockers

Wikia is not accessible if you've made further modifications. Remove the custom ad blocker rule(s) and the page will load as expected.