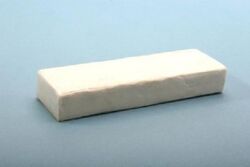 Tornadium D-19 (also called "kaboomite") is the standard plastic explosive of the Frontier Sector. It can be bought legally only by a skilled Demolitionist with no criminal record.
A 50-gram charge[1][2] of TD-19 will cause 5d10 points of damage to anyone and anything within 1 meter of the explosion. Each additional 50 grams causes an additional 25 points of damage.
Anyone farther from the explosion than 1 meter, but within the blast radius, takes one-half damage. The blast radius is 1 meter for every 100 grams of TD-19 used. A thrown charge does full damage to living creatures, but only one-half damage to structures. A 50 gram pack costs 50 credits, and weighs 1 kg.
Variable timers and detonators are used to detonate Tornadium D-19. A timer can be set for 1 to 60 seconds, 1 to 60 minutes or 1 to 60 hours.[3] A variable timer/detonator costs 5 credits.[4]
Notes & References
Edit
Ad blocker interference detected!
Wikia is a free-to-use site that makes money from advertising. We have a modified experience for viewers using ad blockers

Wikia is not accessible if you've made further modifications. Remove the custom ad blocker rule(s) and the page will load as expected.