System: White Light
Color: Red-Orange[1]
Stellar Classification: M0[2]
Mean Temperature: 3,700 Kelvin[3]
Habitable Planets: Clarion (White Light II) (ex-Gollywog)[4]
Subspace Trade Routes
Edit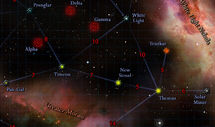 White Light is a major hub in Frontier interstellar trade, with four major routes:
K'tsa Kar - 6 Light-Years
Madderly's Star - 8 Light-Years
Timeon - 10 Light-Years
Theseus - 10 Light-Years
Pirate bands are known to lurk in White Light's asteroid belt.[5]
Notes & References
Edit
Ad blocker interference detected!
Wikia is a free-to-use site that makes money from advertising. We have a modified experience for viewers using ad blockers

Wikia is not accessible if you've made further modifications. Remove the custom ad blocker rule(s) and the page will load as expected.